Subscription Pricing with camos CPQ 365

For manufacturers of technically complex and multi-variant products (e.g. machines and plants), the competitive pressure is increasing in the course of digitalisation and globalisation. Profit margins often remain in the low single digits. But the values for service are often over 30 percent in contrast.
The consequence is that more and more manufacturers are expanding their portfolios to include individual services. The focus is on digital services. The service business already generates half of the revenues in many companies.
Benefits of subscriptions for manufacturers:
Easy market introduction for new products and digital services.
Ability to offer suitable services in addition to the configured product (upselling).
Recurring income – for example annually or monthly (planability).
Long-term customer relationship instead of one-off product sales (customer loyalty).
Benefits of subscriptions for customers:
Customer needs are fully met.
Operating costs can be planned precisely.
Tied up capital is reduced.
High flexibility with low investment.
With subscription pricing from camos CPQ 365 you can ...
Offer products and services on a usage basis or for a defined period of time.

Combine different pricing models for optimal pricing: one-off payment, subscription costs or consumption-based.

Display payment plans and total order value clearly.

Set up flexible payment intervals: monthly, quarterly, annually or individually.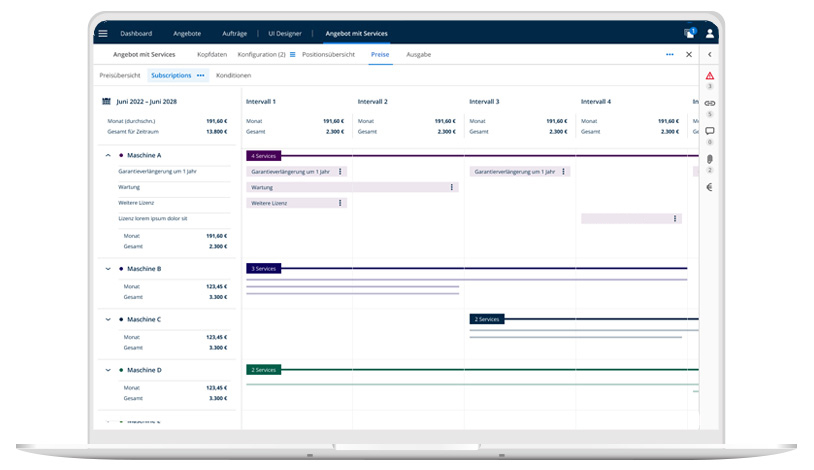 Would you like to learn more about
Subscription Pricing with camos CPQ 365?
Contact us. We will explain everything
you need to know about the topic.
The trend towards the service business and the fact that customers increasingly only want to pay for the actual use of the machine, its performance or its output instead of buying it, requires subscription models ("pay per use", "pay per month", "pay per unit", etc.). These models make products and services available based on usage or for a defined period of time. Revenue from subscription models has almost quintupled in recent years.