3D product visualisation

3D visualisation simply realised
Existing 3D CAD data can serve as the basis for the visualisation. In order to present this data photorealistically and make it usable for the purposes of visual and interactive configuration, it is visually prepared and linked to the configuration logic of camos CPQ 365
Customer experience is crucial for the purchase decision
Features of 3D visualisation with camos CPQ 365
Detailed surfaces for a photo-realistic presentation.

360° view and zoom into the 3D model.

Camera perspective matched to the product configuration.

Navigate to the appropriate position in the configuration via the 3D model.

Drag and drop to add new components to the visualisation.
Advantages of 3D visualisation with camos CPQ 365
Sell with emotions and increase sales.

Complex products and correlations are easily comprehensible.

Unique selling propositions are perfectly presented.

Incorrect selection catches the attention and can be corrected.

Presentation & sale of products that are still in the process of being created.
3D product visualisation boosts online sales
Visual product configuration significantly improves the product presentation on the website. Customers are reached on an emotionally-involving level even without personal contact. With guided selling and the configuration logic, the CPQ system ensures that online users can configure products in a self-service process, obtain quotes and also complete the purchase via a check-out functionality.
Ahead of the competition - generating emotions with CPQ and 3D visualisation
Together with our partner CMC Engineers GmbH, we enable our customers to gain a competitive edge with 3D visualisation based on the market-leading visualisation technology of Unity 3D. This is used in close connection with the product configuration at an early stage of the quotation process.
Would you like to learn
more about 3D visualisation?
Contact us. We will explain everything
you need to know about the topic.
Deepening contents on product configuration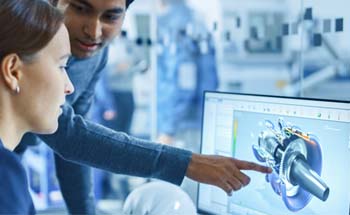 Press Release - camos & CMC Engineers combine product configuration and 3D visualisation.